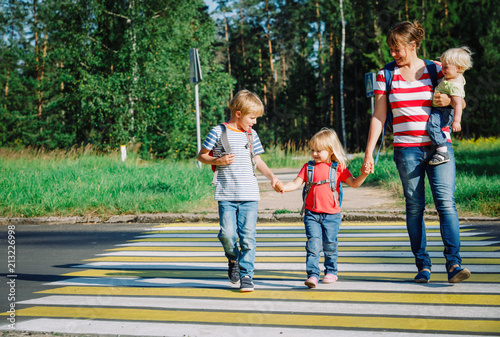 Getting a child to school can be tricky, getting my son ready for school can take its time as my son, if he could walk out the house naked or in his Pajamas he would.
I do things gradually so we gradually have Henry eat his breakfast and then at 8 minutes passed seven each morning that's when we get Henry dressed ready for school. We have started to get him to do it himself, so putting on his pants, trousers and shirt.
I will admit some mornings I do have to wrestle with him to get him dressed. So not always easy.
Once my son is dressed I then I find everything else just fits into place. Getting into a routine is helpful, for both you as the parent and for the child so they know at this time of the day, this when we get dressed, put our shoes on, brush our teeth and one last trip to the toilet, as my fear is getting caught short, and Henry needing a toilet stop on the way to school.
Once we are out of the house it takes a long time to get to school, because my son wants to look and watch everything going passed, the birds, the buses, the squirrels, cars and other children going to school, so I make sure I leave with plenty of time.
The worst thing I hate the most is rushing, and if I can avoid it I will do.
If they do have a melt down on the way then stop, get down to their level and explain that it is OK, and try and take their mind off of it, by looking at the nature or things around them.
Keep letting them know how far away they are and that they doing really well in walking, and don't worry if they have a meltdown as these will pass.
Children are just like us we get anxious over new experiences and changes, and children aren't any different. As they start feeling their emotions they become more aware of what is happening around them.
I get anxious but I try to hide it, as I don't want my fears to effect Henry in anyway and be afraid to go to school.
Many thanks for reading,
Carrie X